What is Microbulk?
Liquid Oxygen, Liquid Nitrogen, Liquid Argon, Carbon Dioxide- Benefits of Bulk Gas Delivery without the cost and space.
Microbulk is essentially a bulk storage system in miniature. A Microbulk delivery system replaces high-pressure or liquid cylinders with a stainless steel, low pressure storage tank known as a Perma-Cyl. Perma-Cyls are available from 230 liters to 5,500 liters, depending on the gas and volumes you need. The Perma-Cyl is installed at your location, and is then filled onsite by one of our microbulk trucks. It's just like getting a home heating oil delivery, no tanks to change out, no down time, and metered delivery.
Cryogenic Cylinders and Tanks
The Perma-Cyl is at the heart of our Microbulk delivery system. Each Perma-Cyl is optimized for onsite filling that takes only two to six minutes. Perma-Cyl containers offer longer holding times in comparison to standard liquid cylinders, and allow you to use all of the product you have purchased. This means you lose less product to venting and will no longer be returning liquid cylinders to your vendor with 20% of the product unused.
Click Here for Perma-Cyl Specifications and Sizes.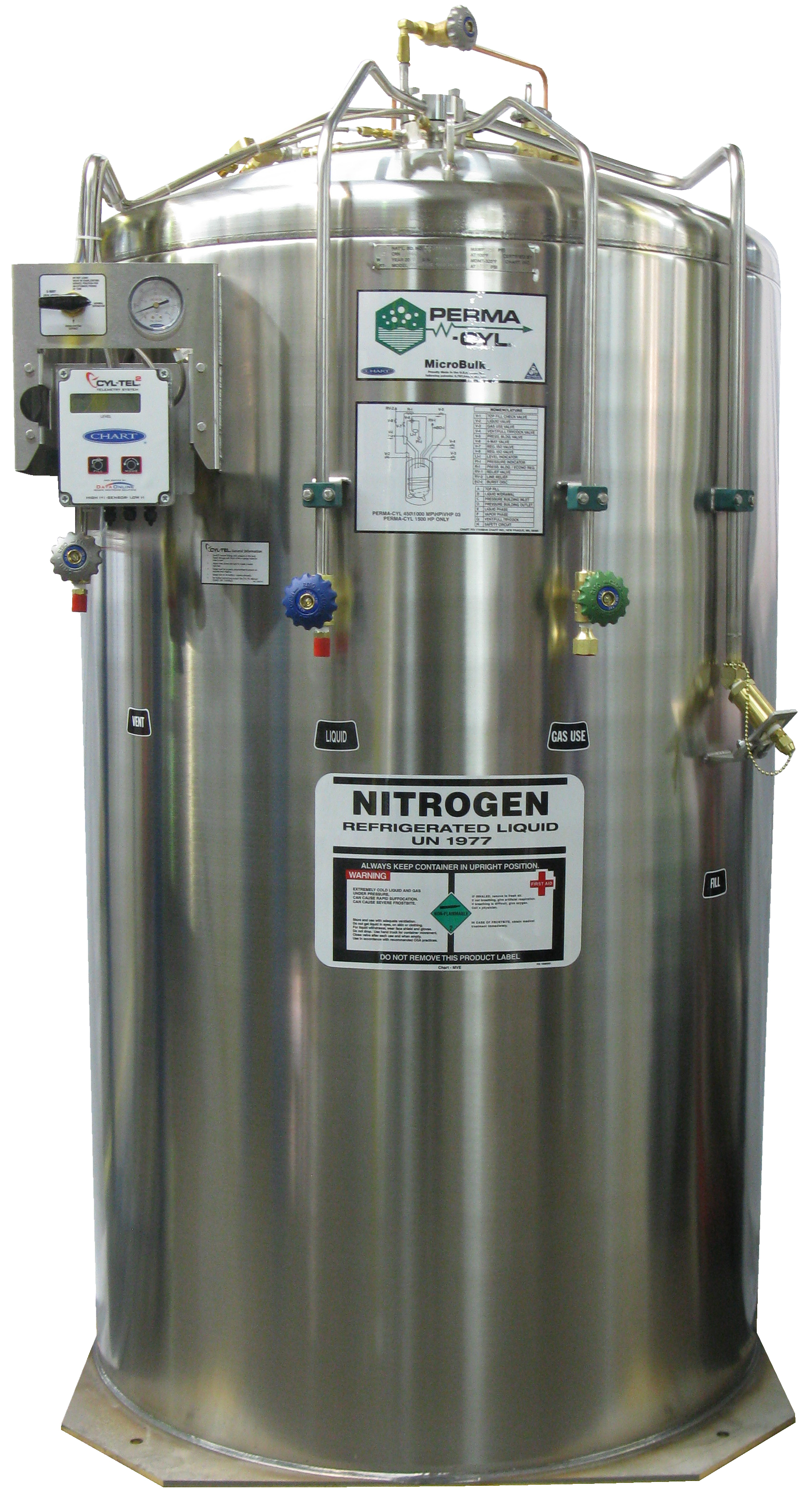 Telemetry Monitoring Systems

A telemetry system allows for the remote monitoring of your Perma-Cyl, cryogenic cylinder. This web-based system is easy to use, allowing data to be retrieved by authorized users or customers anytime over the internet. In addition, the telemetry system will automatically alert our dispatch center as your tank nears its refill point. Telemetry helps optimize your deliveries, often resulting in reduced delivery charges. It offers a peace of mind, knowing that when you need product it will be there.
Fill-Box
To avoid production interruptions, your tank is connected to a locked, tamper-resistant fill box. This box is wall-mounted outside so CryoTech can deliver the gas you need around the clock. For added flexibility, portable units are also available.